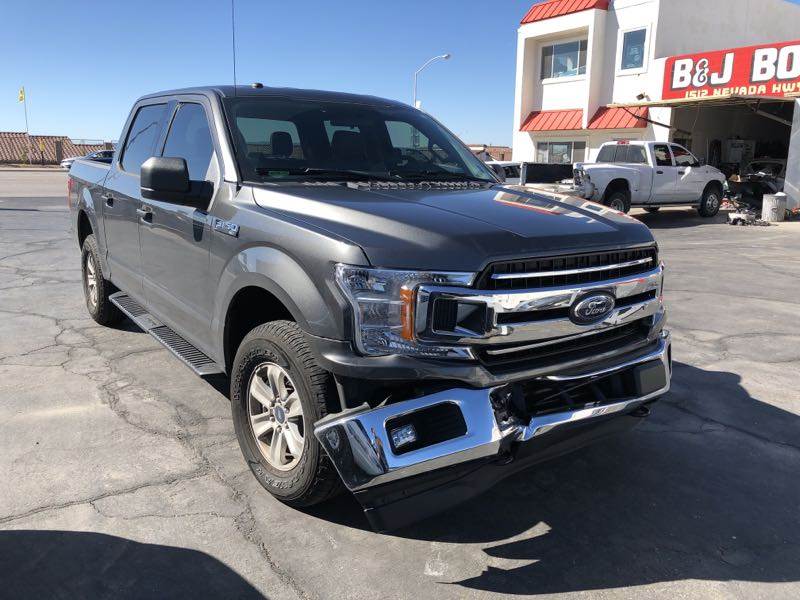 Auto Body Shop Boulder City, NV
Expert Boulder City Auto Body Shop

Serving Our Clients Since 1962
The Best Auto Body Shops do two things really well:
Customers at our auto body shop get accurate, Free estimates on their auto body repair
They use only factory approved parts and paint, not cheap after-market parts and paint, to assure that your vehicle not only looks good, but is repaired to factory specifications, so it stands the test of time. This includes all your safety equipment like air bags and crumple zones, so they work as originally designed to keep you and your family as safe as possible.
The Best Auto Body Shop in Boulder City
B & J Body Shop is a third-generation family-owned auto body shop that is proud to have been serving Boulder City and Las Vegas Valley residents since 1962. We work with every insurance company, and are proud to be ranked #2 out of 31 car auto body shops in Southern Nevada and Northwest Arizona in handling auto body repairs, and satisfying our clients.
We Can Pick Your Vehicle Up for Auto Body Repairs to Be Performed at B & J Body Shop!
Free pick up and delivery of your vehicle to our auto body shop is available for clients from anywhere in the Las Vegas Valley, Mt. Charleston area, and even Searchlight and Meadview, AZ!
A History of Auto Body Shop Excellence
B & J Body Shop was started by Jacob Williams, and is now run by his son Charles Williams, who grew up working in the auto body shop, sweeping the floors as a child. Every client is treated like family, and we make sure that you are completely satisfied with your auto body repairs.
Our goal is to put your car back in the condition it was prior to the accident, or better. We follow strict standards and guidelines, and use only original equipment parts whenever they are available. We will not use auto body repair aftermarket parts that have been manufactured under less stringent guidelines than the original manufacturer.
This is especially important when it comes to safety devices, like air bags, working properly after your auto body repairs are completed. We find that aftermarket parts do not fit well, and do not stand up over time, which is why we avoid using less than the best parts available. We simply refuse to use an inferior part at our auto body shop.
Auto Body Shop Services
We offer auto body repair, auto body painting, paint-less dent removal, headlight restoration, windshield repair and replacement, and we stock up to 350 replacement truck beds from major manufacturers in all the most popular colors.
Click here for more information on Auto Collision Repair.
Replacement Truck Beds
When a client has damage to their truck bed, we have been able to replace the entire truck bed with a brand new one for less that it would have been to complete the auto body repairs. Click here for more information on Replacement Truck Beds
There are many good auto body shops in the area, but B & J Body Shop is better, and here is why:
Limited Lifetime Warranty on Workmanship
All Cars are Detailed Before Release to Our Clients
Your Satisfaction on Your Auto Body Repairs is 100% Guaranteed
FREE Pick-up and Delivery in most areas (call for details)
We Are a Recommended Provider for Major Insurance Companies
We Use Only Factory Approved Replacement Parts Including Air Bags and Other Important Safety Components
For your FREE Estimate to restore your vehicle to "like-new" condition, please call our office, or stop by to speak with Charles Williams about your auto body repairs. You can reach us at (702)293-1140, or stop by our office Monday – Friday, 7:30 am – 5 pm at 1512 Boulder City Parkway. You will be glad you did!
Located in beautiful Clark County, Nevada, B & J Body Shop have been repairing vehicles since 1962. We are located at 1512 Boulder City Parkway, Boulder City, NV 89005, but we also service Henderson, Las Vegas, and the surrounding areas. Give us a call at (702)293-1140, we are open Monday through Friday, 7:30 AM to 5 PM. You can also find us on WhitePages, AutoBodyAlliance, Yelp, and the YellowPages.
Driving to B & J Body Shop from the Boulder City Municipal Airport (BLD) is easy, just follow these basic directions. First head east on Airport Road and make a left to stay on Airport Road. Then turn Left in 500 feet onto Veterans Memorial Drive. In a little less than a mile make a right onto Adams Boulevard, in .2 mile turn left onto Gingerwood Street, in half a mile make a right onto US-93 South, in .4 miles B & J Body Shop will be on the left.